I've followed the work of photographer Maureen Du Preez for a few years now and I absolutely love her way of seeing the world. Her photography has a beautifully honest quality to it and her love of nature and all things wild is evident in the way she captures a story. So when she sent me Diane & Alex's enchanting Isle of Skye elopement, I couldn't wait to share it with you all.
Here is the story of Diane & Alex, told so beautifully by Diane and captured by Maureen.
An Isle of Skye Elopement
When we were planning our wedding we knew an outdoor ceremony was exactly what we wanted. We live in the busy city of Glasgow and wanted to escape to nature. We spent some time finding our perfect location and finally decided on Isle of Skye as the dramatic scenery was perfect. Our wonderful photographer Maureen and her husband Chris agreed to be our witnesses, making our elopement intimate and unique. We travelled to the Isle of Skye and checked into our beautiful cottage a few days before the ceremony, spending some time exploring the Island and buying the scarves for our handfasting from a small shop in the centre of Portree. On the day of our ceremony, we spent the morning getting ready together and enjoying the tranquillity before the nerves kicked in. We arrived at the Quaraing and started the hike to find our ceremony spot. Being in a wedding dress and kilt made us stand out and we spoke to some hikers we met along the way, with them taking photos and cheering us on. It was a surreal feeling walking up together knowing that we'd walk back down as husband and wife. Our ceremony spot was perfect and we knew our photos would be more than we could imagine. We laughed through the vows, did the traditional handfasting and shared our first drink from our custom made bottle of whisky from the Quaich. We laughed as our humanist Penelope spoke about how we met at college and were complete opposites. To see us standing together saying our vows in the most beautiful location knowing this day would be just for us was amazing. Luckily the sun was shining for our vows which we weren't expecting at all as the days before had been torrential rain on the island, as the vows ended and we stood for pictures the weather changed and became overcast and drizzled rain creating a moody atmosphere which really captured Scotlands diverse weather. We then headed to the Fairie Glen and had fun exploring the area where we got some of our favourite photos.
Our day was everything we could have hoped for and more, we'd recommend it to anyone who doesn't feel like a traditional wedding is for them. Go exploring, get the wedding dress muddy and enjoy the moment as it goes by so quickly.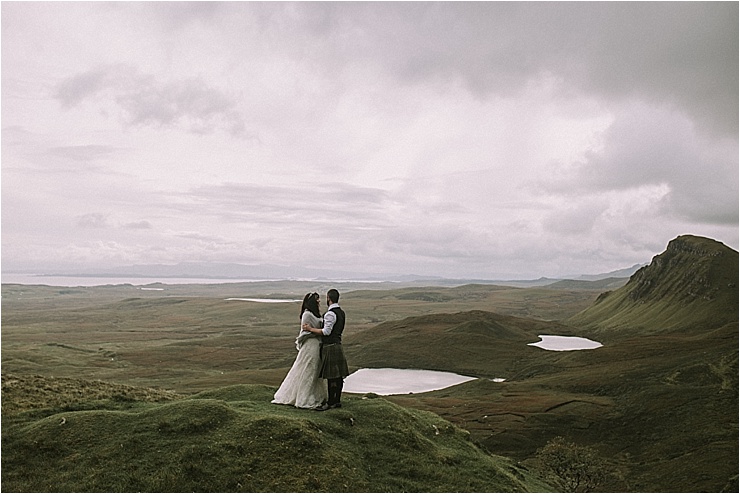 Vendors:
Humanist – Penelope Hamilton
Photographer – Maureen Du Preez
Wedding dress – Aimee Bridal
Kilt – The Kilt Store Edinburgh
Flowers – Simply Flowers
Scotch Whisky – Demijohn, Glasgow
Handfasting scarves – Skye Batiks
***********************************************************
Inspired by Elopements?
A Norwegian Summer Solstice Elopement In Lofoten
***********************************************************
*** Pin This Post ***