If you're planning an adventure wedding, you're almost certainly going to be thinking about an outdoor ceremony to make the most of the incredible location you've chosen. Outdoor ceremonies are certainly my favourite, and with these tips for planning an outdoor wedding ceremony, you'll be able to plan a day to remember!
5 Tips For Planning An Outdoor Wedding Ceremony
1.  Keep Everyone Comfortable
Whatever the season, think about how you and your guests are going to keep comfortable during your outdoor wedding ceremony. If you're expecting the weather to be hot and sunny, think about sunshades or parasols for your guests and have cold refreshments on hand for them to keep hydrated before and after. For winter weddings, think about how guests are going to keep warm and consider having blankets on people's seats for them to wrap up in and warm drinks on standby for after the ceremony. And if you're planning on having a standing only ceremony, it's best to keep it fairly short.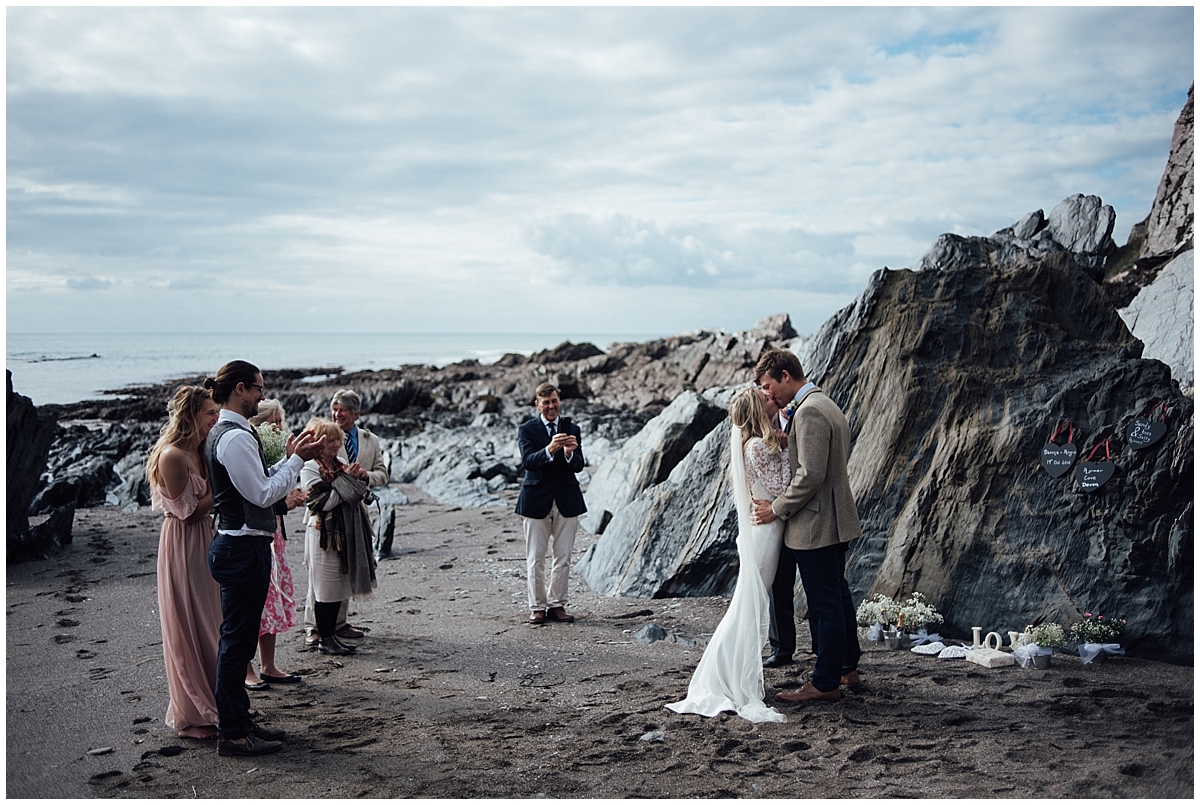 2. Keep Everyone Informed
This ties in with the first tip. Make sure your guests know about your plans and the location you have chosen, and let them know how best to dress for the occasion. If you know the ground is going to be soft or uneven, for example sand, rocky or snow, encourage people to wear appropriate footwear and have somewhere inside where your guests can store a change of clothes or shoes for the evening.
3. Have A Bad Weather Backup Plan
Whilst a little bit of rain or wind might not need to cause you to revert to plan B, it's good to have a backup plan just in case the weather turns really bad. Have a backup plan in place means you'll be able to relax and enjoy the day much more knowing that you've already thought about (and planned for) the worst case scenario.
4. Think About The Position Of The Sun
Most of the time, couples choose an outdoor ceremony to highlight the stunning location that they have chosen. However, the position of the sun can have a dramatic effect on not only the enjoyment of you and your guests, but also your pictures. Any photographer will tell you that good light usually trumps a pretty backdrop, so you'll want to try and plan your ceremony in a location and at a time where the light is going to be most favourable. Mid-day light is the worst as it casts horrible dark shadows under the eyes and causes people to squint, so an early morning or late afternoon/evening ceremony is best in summer months. After that, you're going to want to think about the direction of the sunlight. Side light is the worst here, as it means that when you turn to face each other, one person will be brightly lit and looking in to the sun, whereas the other person will have the sun on their back and their face in the shade. Having the sun directly behind or in front of the ceremony means that you'll be evenly lit, and both options here have their own advantages and disadvantages.
5. Ask Your Vendors For Advice
If you're not sure about how best to plan your outdoor wedding ceremony, ask your team of vendors for their advice. They are wedding experts and can help you plan your outdoor ceremony so you can get both incredible photos and have an unforgettable day.
************************
Pin This Post
If you're looking for your wedding dream team, check out the Adventure Wedding Collective supplier directory on We Are The Wanderers with Europe's best adventure wedding vendors.