If you like the feeling of adrenaline pumping through your veins and you're looking for a new sport to try this year, perhaps it's time to give climbing a try. In this introduction to climbing, we're going to look at a few of the most well-known forms of climbing, and hopefully inspire you to go and try it yourself (with instruction of course!).
An Introduction To Climbing
In this post, I want to give you an overview of some of the main forms of climbing that you can do around Europe. This post is by no means covers all of the many variations of climbing or should be seen as a how-to guide, but an exploration of the sport and some of its different disciplines. Climbing can be a dangerous sport, so if you decide you want to give it a try, make sure you you hire someone who is qualified to teach you what you need to know.
Free Climbing
Not to be confused with free solo climbing, free climbing as a term used to describe the most common types of climbing, where the climber uses their own body (hands and feet) to move across a rock. Safety equipment, such as ropes and harnesses are used to help minimise injury in the event of a fall, but are not used to assist the climber in the ascent. Free climbing can be split in to two main disciplines; sport climbing and trad (traditional) climbing.
Sport Climbing
In sport climbing, climbers climb a pitch that has pre-drilled points that are permanently fixed to a rock. The climber attaches a "quickdraw" (2 carabiners joined by webbing) to these fixed points to connect their rope to the rock face. Sport climbing can take place both indoors and outdoors, and is one of the most beginner-friendly forms of climbing.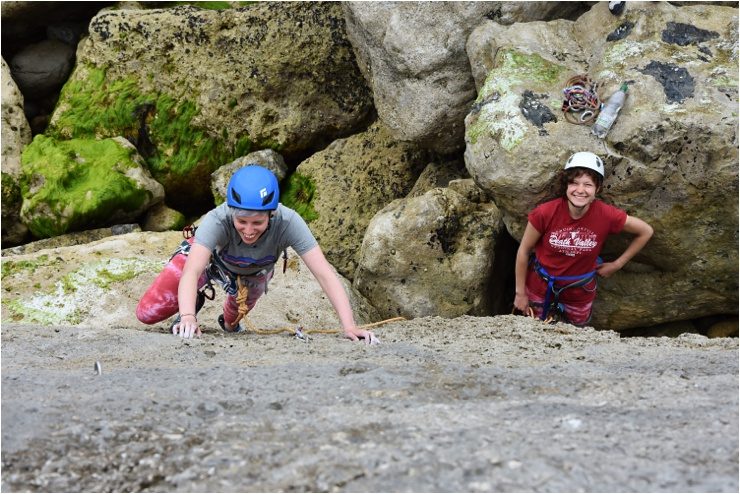 Trad Climbing
Trad climbing (traditional climbing) involves the climber placing hardware in to cracks and weaknesses on a rock to protect them from a fall. This hardware is removed when the section is complete.
Ropeless Climbing
Bouldering
Bouldering is one of the most simple forms of climbing, which usually takes places on natural boulders or artificial boulders in a climbing centre. Routes are short and climbed without a rope, and often require a lot of strength and power. All you need is some chalk, climbing shoes and a "crash pad" to help soften the fall.
Deep Water Soloing
Also a type of ropeless climbing, deep water soloing (as the name suggests) involves climbing above a deep body of water which will break your fall. Routes are generally challenging and not recommended for beginners. Mallorca is famous for its DWS, but there are many great spots around Europe for this sport, including Croatia, France, Portugal and the UK.
Free Soloing
Practiced by only a small number of highly skilled climbers (or maniacs), but something you might see on the cover of a National Geographic magazine, free soloing is where climbers climb large rock faces without any safety equipment. Fall here and it's likely to be fatal. Just watching clips of it on YouTube it makes me very nervous! Alex Honnold is one of the most famous free solo climbers.
Mountaineering
Mountaineering is a term used to describe mountain climbing, which uses a variety of techniques to cross often hazardous terrain in the pursuit of climbing a mountain. Mountaineering often involves crossing snow, ice and glaciers, and can require skills in climbing and skiing for some ascents and descents. Whilst mountaineering can be pretty extreme (think Everest), it can also be quite an accessible step up for people looking to go a little bit further than hiking and scrambling. There are a number of great introductory mountaineering courses out there, including one just for women by Love Her Wild.
Via Ferrata
Via ferrata is a combination of high alpine hiking and rock climbing that is thought to have originated in the Italian Alps during WWI to allow troops to cross mountain ranges without prior mountaineering knowledge. It consists of steel cables that run along a route, with fixed points periodically drilled in to the rock face (via ferrata literally translates to "iron way"). Climbers fix themselves to the steel cable using a special via ferrata set which attaches to a traditional climbing harness. In the event of a fall, the fixed points along the cable stop the climber falling back along the route, while the special via ferrata set helps to dampen the fall with its special energy absorbing system. Today via ferrata routes are found in many alpine areas across the Alps, with the majority in Italy, France, Austria and Switzerland. These routes vary in length from short 1-hour climbs to multi-day routes that cross mountain ranges, with difficulties from beginner to advanced.
***********************
Whether you're completely new to climbing or whether you fancy giving a new discipline a try, always make sure that you learn the basics from a qualified professional. Knowing what equipment you need and how to use properly it is essential for staying safe and having fun, whatever your next adventure might be.
Thanks to the wonderful photographers who have allowed me to share their images in this post. These women are truly awesome and I highly recommend you stalk their social media profiles if you want to follow their epic adventures:
Charlie Low
Website: Charlie Low Photography
Instagram: @charlielow
Facebook: Charlie Low Photography
Flickr: Charlie Low
Header Image by Charlie Low Photography
Georgina Jackson
Website: Two Travlrs
Instagram: @two_travlrs
Facebook: Two.Travlrs
Twitter: @two_travlrs
Rebecca Coles
Website: All But Essential Travel
Instagram @allbutessentialtravel
Facebook: All But Essential Travel
Twitter: @AllbutEssential